How to Master an Online Degree – A Guide to Success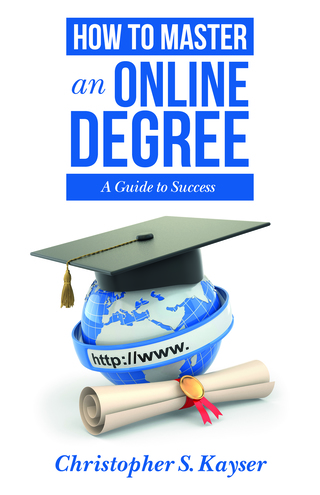 This is an excellent, short book (60 pages) that 'is a must-read for anyone who endeavors to earn a degree online.' It is written from a (successful) online student's perspective, based on Christopher's own experience leading to a fully online Bachelor of General Studies from Athabasca University in Canada, an online Masters in Criminal Justice and an additional Graduate Certificate in Cybercrime and Security from Boston University in the USA. Christopher has walked the talk.
The book covers the following topics:
Basic considerations for every course (including timelines, meeting deadlines, writing skills, etc.)
Technology tips
Developing meaningful relations with administrators and faculty
Discussion boards and discussions
Quizzes, exams and assignments
Research, plagiarism and citations
Navigating the 'Course from Hell' (extremely valuable advice here!)
Surviving a course meltdown
Course evaluations
I don't know of any other book that builds so well on a student's hard-earned experience of online learning and that shares that experience so well in advising others contemplating online learning. Dr. Tony Bates
"As an online instructor, I consider this book as one of the best must-read books for anyone who considers pursuing an online degree…Great work!" Kyungshick C. – Ph.D.
"I took his advice in getting to know my teachers, facilitators, as well as my classmates and it has strengthened by bonds with the school and made the program easier to manage". Sheila H. Master's Student.
"There are only two things any student needs to be successful completing an on-line degree: a computer connected to the Internet and Chris Kayser's book How to Master an Online Degree…Do yourself a favor and spend the ten bucks and read it cover to cover; it will be the best ten bucks you ever spent! John F. – CEO, Adjunct Professor.
Highly recommended – "I cannot recommend this book high enough with only 5 stars".
Wish I had read this guidebook – "I wish I had read this guidebook before I ventured into the world of online academics. It would have saved me a lot of time, expense and frustration".
Simple and concise while delivering a vast amount of knowledge - "I read this book in 2.5 hours…It captured me among one of its first topics: 'Re-engaging in academic studies after a prolonged absence'…potential challenges, skills, etc. are communicated in a simple and concise manner".
Worth twice its weight in gold - "I wish I had read this book before beginning an online Master's program…I wrote to my university and asked that they consider recommending this book for any beginning online student because of the benefits I believe it offers…this book serves as a constant go-to 'mantra' guide, pep talk, insightful map book, and how-to-manual for my online education".
A Thorough, Cautionary and Encouraging Reference Tool - "Thorough in its approach, succinct in its presentation, cautionary in its advice, but most importantly, supportive and encouraging in its message…Many of its suggestions are equally relevant in a 'bricks and mortar' learning environment".
Easy to read and understand - "I would highly recommend this book if one is serious about succeeding in their academic endeavours".
Must read for anyone considering or enrolled in an online degree program – "Do yourself a favor and spend the ten bucks and read it cover to cover; it will be the best ten bucks you ever spent".
"Valuable tips on preparation, organizing, time management and achieving the highest marks".
A must read! – "I couldn't put it down! Read it! Keep it close! Truly a bright light in the tunnel". Bill F. – Retired.
Taking classes online? Buy this book!!! – Simply one of the best 'how to' guides I've ever read! Not a technical manual".
Handy little book – An easy to read and extremely beneficial guide designed for the next generation of learners – online students".